CareRinger and its reassurance system can provide feelings of comfort and peace of mind to our seniors and everyone involved. It alerts your designated contact, friends or family when you miss your check-in call. There is no equipment to purchase to get started.
&nbsp&nbsp • As a participant, experience the simplicity of a daily call at the time of your choosing to help you stay independent and enjoy life.
&nbsp&nbsp • As a family caregiver, CareRinger helps you maintain communications with your loved ones without being overly intrusive.
---
Experience the service as a trial user for FREE. Just download the sign-up forms or contact us to register now. *** We respect your privacy and would not start the service unless we have your consent, and will stop the service when asked to.
Highlights:

CareRinger is now providing both daily calls and a Reassurance Button. You can check in by simply clicking the button, or you can alert your loved ones when you may need their help. With this Reassurance Button in your hand, you are in full control of your check-in calls.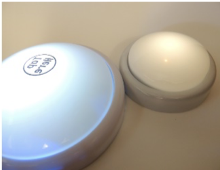 The "Tap-2-Check-in" light is another friendly choice for our seniors to check-in . When it's lit, just tap on the button to turn off the light and there will be no more check-in call to answer. This patented feature offers seniors and those with hard of hearing ample time to communicate their well-being to their loved ones without having to rely solely on their telephone for check-in calls.
To know your other options, please read our stories to keep up with what CareRinger has to offer.
"Feelings of comfort and independence, combined with memories and a social network, keep seniors in their homes."
"Feeling safe, minimizing worry and giving peace of mind to yourself and your family will benefit everyone involved."
Andrea Gallagher
President of Senior Concerns, Thousand Oaks
Free Trial
To sign-up for the free trial, use promo code:
FREETRIAL